HANDMADE WINDSOR CHAIR
MADE IN RHODE ISLAND
A MODERN WINDSOR CHAIR
I have been making this modernized Windsor chair for fifteen years.
This is the current chair.
It has a classic silver blue milk paint seat.
The crest, legs and spokes are ash or oak.
I TRY TO KEEP TWO MATCHED CHAIRS
IN MY SHOP. CURRENTLY THE TWO ARE
THE HANDMADE WINDSOR CHAIRS PICTURED BELOW
(WITH SILVER BLUE MILK PAINT SEATS.)
I USE DIFFERENT COLORS AS WELL.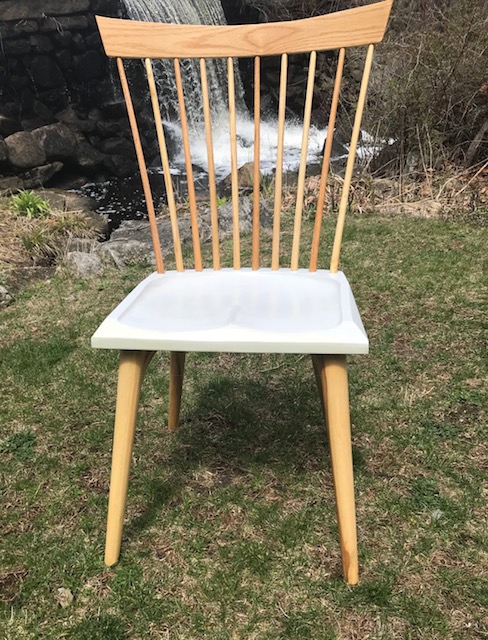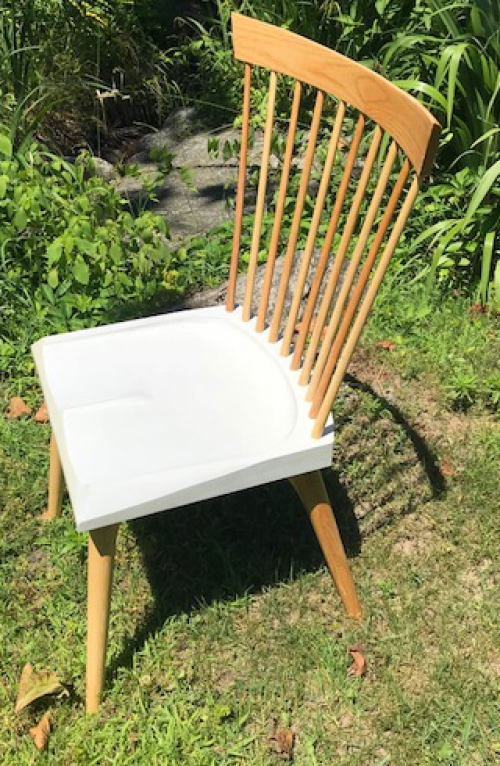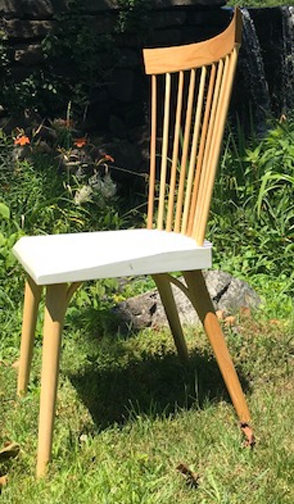 I make them in my shop in South Kingstown, RI and they are made one at a time.
The following pictures show the details of its unique design and its structure.
Each leg is mortised right through the seat and the tenon is wedged.
This is the classic Windsor technique.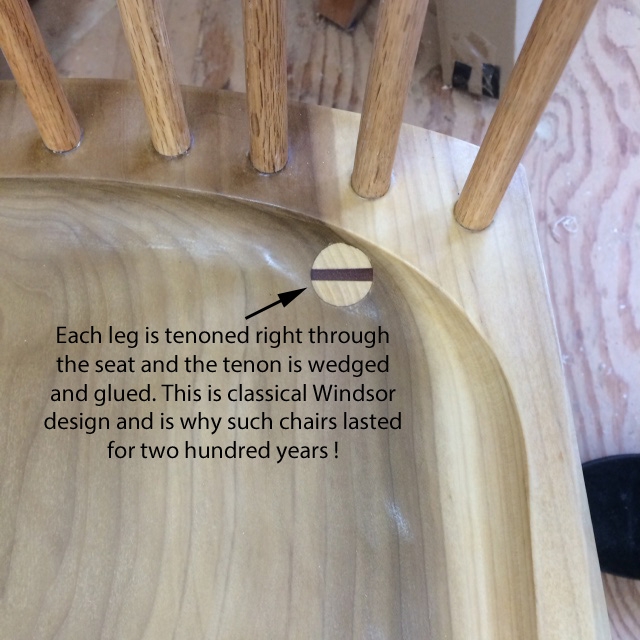 The rungs you will find in antique Windsors have been eliminated
and each leg is instead fitted with a laminated arch

let into the leg and attached to the under side of the seat, functioning as a buttress.
The elimination of the rungs enhances the unique modern design.
(I wish I could take design credit but I began making these after seeing
a picture of this chair in Architectural Digest years ago !)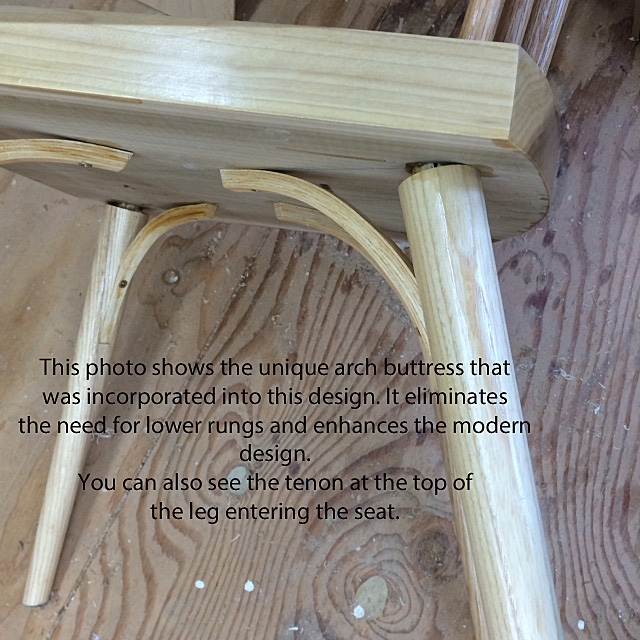 I try to keep two chairs in my shop, available for immediate pickup


here in southern Rhode Island.




The cost for a chair is $595.00




You may make an appointment with me

via the email address below.




SHIPPING




I urge pickup at my shop in Southern Rhode Island if possible.




I can use a "crate and ship" service to deliver a chair.
I would have to relay a quotation for you based on your location.
Typically this would be on the order of $150 per chair.




Please direct inquiries to

burt@handmadechairs.com







About Windsor Chairs

The Windsor Chair evolved from early woodworking shops in
Wales, Ireland and England in the 1600s. These chair gradually took the forms more
resembling the familiar Windsor chairs (bent crest with spokes or arched back with spokes)
in the seventeenth century in England. The first of the now familiar Windsor chairs were shipped
to dealers in London from a town called Windsor in the Berkshire district during the 18th century.

The Windsor chair has two basic forms: the sweeping arch backed
(an upside down arch that received the spokes) and the crested back
(such as the chair I make.) Variations included fancy shaping of
the crest and elaborate turning (lathe work) in the rungs across the legs that help
hold the legs in place. These displays reflected the skills of the early chair makers
and also were enabled by the division of labor among the shops that produced
early Windsor chairs: there were carvers that decorated the Windsor crests, turners
who designed and produced the rungs and carvers who shaped the
scooped Windsor chair seats that almost all Windsor chair makers featured.

Windsor chairs were imported into America in the early 18th century and shops,
first in Pennsylvania, began producing them here shortly afterward. American Windsor design
evolved in their own direction, specifically into deeper carved and thicker seats. The
tenoning and wedging of the upper leg into the Windsor seat was common in all
the best made Windsor chairs. (In fact a properly designed and executed leg to seat
joint (tenoned and wedged into a thick seat) is so strong that
reinforcing rungs (or in my case the arched buttresses) may hardly be needed.

Two factors keep the Windsor chair in such popular demand: one is their longevity:
a properly made Windsor chair is rarely sent in for repairs. Windsor chairs have lasted,
in use, for a couple of hundred years !

The modern design that I use is of unknown origin. The original inspiration was a magazine
picture that I posted of this modern Windsor chair on the bulletin board in my shop
years before I began making them ! I keep at least two matching chairs in
my shop here in southern Rhode Island as best I can.

There are features in this hand made Windsor chair that defy factory mass production.
The joinery of the parts in the modern Windsor is as complex as in any crest back chair
(even more because of the unique arch buttresses)
so that the assembly and gluing is not something that an unskilled worker can accomplish.
Another aspect that can only be executed in this particular Windsor chair is the geometry
and execution of the arched buttresses which are let into the upper leg and then attached
to the Windsor seat under side. There is very fussy detailing in the making of these
arches and in their joinery to the chair.

There are many individuals and small shops that are making high quality
Windsor chairs, featuring the unmistakable quality and character that cannot
be found in the repetitive monotony of mass production Windsor chairs.
You might use your computer to search for the hand made Windsor
chair that suits your tastes and budget.





/font>
<>